Baptism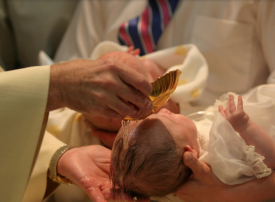 (1) Baptism Preparation – "First Saturday meetings"
Families who are asking to have their children under the age of 6 Baptized currently meet on a one to one basis with our priests. Please telephone us at 973-325-0110 for Father Jim Ferry. These meetings are - usually - scheduled on the first SATURDAY of the month at 9:00 am in the main church. You are asked to register ahead of time so we will know if you are coming.
(2) Godparents: Godfather, Godmother
At least 1 of the godparents for the child must be a Catholic who has received the sacraments of Baptism, Confirmation, and First Communion. If the godparent is married, the godparent must be married in the church, by a priest or a deacon, in the Catholic Sacrament of Matrimony. However, it is not a requirement that a godparent be married. Please see below to download the Godparent Certificate form which the godparent is asked to fill in, to sign, and to have signed by his or her parish priest.
Please note that a godmother or godfather may serve in this role without being physically present on the day of baptism.
(3) Sacrament of Baptism Celebration
Baptisms are - usually - celebrated the first Sunday of the month following the 11:30 AM Mass. However, you are asked to call the rectory to complete the above steps including the meeting with a parish priest and the godparent requirements so that we can finalize the date with you.