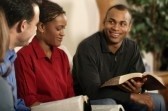 I used to be Catholic but I wonder how I can come back and what has changed. Come find out.
I am Catholic but I never received all my Sacraments. It's never too late.
I'm not Catholic but I've wondered what Catholic Christians believe and practice.
Please join us. Or come with someone who you think might be interested.
We meet September through June, Sunday mornings at 10:30 in the hall under the Church. During our sessions we look at selections of the Bible used during Sunday worship for that week. A team leader offers some background on the selections or passages and talks about the beliefs that Catholics derive from that passage. Then the group discusses the meaning of the Bible passages have for our own lives today. Prayer is offered at the end of each session. Please call the rectory office at 973.325.0110.